Convert Twitter Tweets Into Images – TwitSig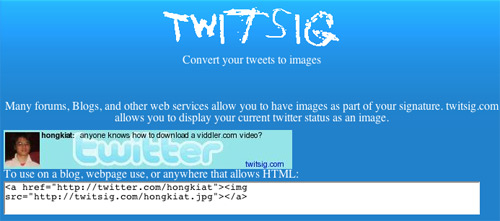 Twitsig is a free service that embed your Twitter message dynamically into image, so you can the image as a signature, or display it on your blog. This is a pretty interesting, not only your tweets (now in image) has better way to get more attention, the attached-once signature allows you show off your latest updates to your email recipients and forum users.
Getting your personal Twitsig image is simple, all you need to do is insert your Twitter username and codes will be generated automatically. Currently there's only 2 options of images to choose from. I sure hope Twitsig will give us more options, or perhaps self-upload function in the next update if there is.
This post is published by a Hongkiat.com staff (editors, interns, sometimes Hongkiat Lim himself) or a guest contributor.