Claim Your Twitter Page As Blog in Technorati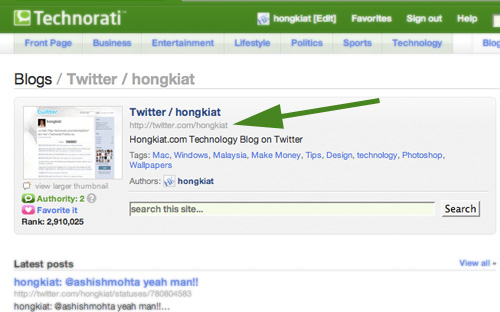 If you have not claim your Twitted feed in Technorati, perhaps it's time to do so now. Folks at Blogherald reported that Technorati is now indexing Twitter feed. By claiming your Twitter page in Technorati, tweets will then be indexed and you bet they will then appear in Technorati search results.
Looks like Technorati is treating micro-blogging as important as normal blogging. A claimed Twitter page in Technorati looks exactly like a claimed blog, with all the rankings, authority, tags, description, etc.

How to claim Twitter page in Technorati
Login to Technorati, go to My Account
Click on Blogs tab, type in Twitter page url (eg. http://www.twitter.com/hongkiat) in 'Claim a blog' and begin claim.
Post the required message in your Twitter (you can delete it later) to activate claim.
Done, your Twitter page is claimed.
This post is published by a Hongkiat.com staff (editors, interns, sometimes Hongkiat Lim himself) or a guest contributor.