300 Most Influential Websites Come In Printable Map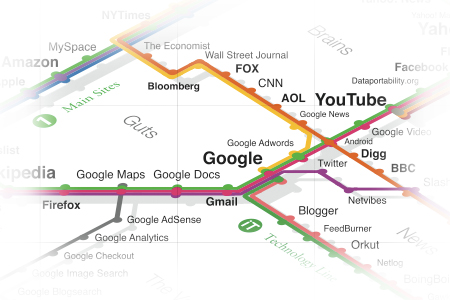 Information Architects Japan (iA) presents you 300 Most Influential Websites, layout in a complex japanese Tokyo train map; grouping sites in "lines" like News Line (Washington Post, USA Today, etc), Social Network Line (Meebo, Hi5, Friendster, etc), File Storage Line (RapidShare, MegaUpload), and a lot more, total of 21 different lines.
This gigantic map comes in a clickable online version, as well as a PDF format. Don't worry about the size/quality if you're thinking of printing it out. The PDF Version can be enlarged up to full resolution of A0 size. Just how big is A0, imagine 16 pieces of A4 papers.
I think this map very close to showing the Internet in overall, just wish there's an OPML for these 300 websites.
Wed Trend Map via WebAppers
This post is published by a Hongkiat.com staff (editors, interns, sometimes Hongkiat Lim himself) or a guest contributor.